Glamour Magazine -
Why this year's fashion graduates are going to save the world
"When I realised fashion was my calling and that it was it was also one of the major polluters of our natural world, I was ashamed to be entering the industry. However, during the three years (of) my degree, the positive change towards sustainability…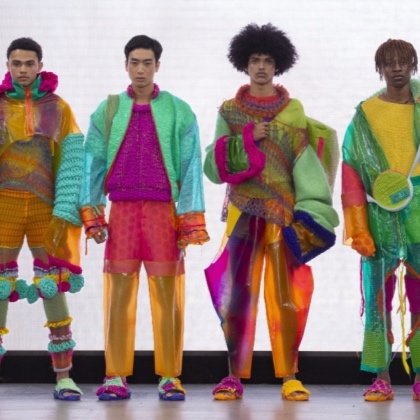 Eastern Daily Press -
Designs by Norwich fashion students wow crowds on Graduate Fashion Week catwalk
Phoebe Constable's collection of bio-plastic garments was inspired growing up by the sea in West Wittering, where she used to collect plastic from the beach as craft materials.
The 21-year-old said: "I wanted to create something plastic but positive. It is biodegradable, it shows how plastic can be positive and poses a solution to part of the problem."
Rosie Bragg -
Conscious of NUA Fashion
The word I would choose to describe my work would be 'fun'. Although sustainability is integral to my design, I wouldn't choose this word as I believe that you shouldn't have to brand something as sustainable, it just should be. Whilst I design for men, my clothes could be worn by women or even children due to their oversized, colourful nature.
GFF Talent -
Phoebe Constable's Bio-Plastics
This week, our Graduate Fashion Foundation Talent spotlight hits Norwich University of the Arts where Phoebe Constable is experimenting with creating innovative bio plastics that look to redefine fast fashion. Phoebe is aiming to make sustainable fashion relevant, colourful and creative.
Young Designer Awards 2019: in conversation with four emerging designers
As many of you will know, it is very hard for young creative talents to emerge in the Fashion Industry. To help some very talented designers show their first collections to the world, Joanna Marcella, Founder and Director of the Young Designer Awards, embarked in the…
I never stop experimenting with materials and I always try to find a new way of doing things to make my research and work into sustainability that bit more interesting; from using recycled foam and rubber rings to using natural towelling in previous projects, for example.